10 Yooper Stereotypes That Are Completely Accurate
You wear flannel 9 months of the year with a hunter orange hat and wouldn't change that for anything because you're a Yooper, eh?
1. Yoopers Are Ridiculously Proud Of Being Yoopers
Source: Flickr user Betsy Weber
Whether they were born and raised or were graciously accepted as a transplant, they're Yoopers and proud of it. From their way of life to the recent addition of "Yooper" to the dictionary, there's plenty to boast about. The rest of the nation can joke about the 906 not having internet or running water--Yoopers are proud of who they are and what they stand for.
2. Yoopers Could Survive The Next Ice Age No Problem
Source: Yooper Memes via Facebook
Yoopers don't just survive massive amounts of snow accumulation and bitter cold--they celebrate them. These winter moments just mean the ice is thick enough for ice fishing and that the ski hills and snowmobile trails have fresh powder. The world becomes their freezer, and they like it that way.
3. Yoopers Are A Bunch Of Cheese Heads
Source: onlyindade.com
The Upper Peninsula is more connected to Wisconsin than it is the rest of Michigan, so it's only natural that most Yoopers choose to root for the Packers. If you're cruising through the western side of the peninsula especially, expect to see more Packer memorabilia and football broadcasts than any other team.
4. Yoopers Are Hard Core Hunters
Source: kim_bear12 instagram
When the first day of deer-hunting season is considered a holiday and schools have the day off, you know hunting is a big deal. Almost everyone goes out in search of a big buck and venison is considered a delicacy by most. Some go for the hunt and some go for the experience that is deer camp.
5. Yoopers Are Euchre Fanatics
Source: Flickr user agiamba
Euchre is a card game played commonly played with four people that are split into teams of two. The rules are somewhat complicated to explain, so you'll just have to ask someone to teach you. If you are a Yooper, odds are someone in your family taught you how to play–but not that willingly. Learning how to play euchre is almost as much of a right of passage as your first deer season in the U.P.
6. Yoopers Are A Tight-Knit Bunch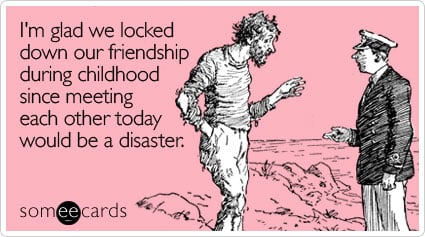 Source: someecards
If they're not your cousin, they're a friend of your cousin and have come to at least one of your birthday parties. Anytime Yoopers go to the grocery store, they have to factor in 15 extra minutes for the conversations they'll have when they run into at least three people they know. Because chances are, they've gone to school with the same people since kindergarten and know everything about everyone. It's never hard to find a common thread.
7. Yoopers Don't Like Tourists
Source: Flickr user Kyle Miron
Yoopers have many names for tourists from different states, but reserve "Troll" for those from the Lower Peninsula because they're under the bridge. Clever, I know. If you're a visiting almost any town in the Upper Peninsula be prepared for "The Small Town Glare." Immediately upon entering an establishment, all of the locals will stare you down. Not out of spite, of course, more so trying to figure out if they know you…because they know everyone.
8. But Yoopers Are Still The Friendliest People You'll Ever Meet
Source: Yooper Pasty via Facebook
Yoopers are the kindest group of people you will ever come across. You may get the glare, but they'll still help you find your way to a beautiful waterfall or give you directions when you're lost. They'll gladly tell you which shop in town has the best pasty. If you want to explore the pristine forest, they'll direct you to a spot with the best view. Once my car broke down on my way to L'Anse and literally everyone that drove past stopped to offer me a helping hand.
9. Yoopers Are Rural And Loving It
Source: Instagram user mattziniel
Let's get this straight from the start--being rural doesn't make Yoopers back-wood rednecks. The Upper Peninsula is a pristine area full vast beauty, awe-inducing sights and secluded islands. Nearly anywhere you are, as long as there is no cloud cover, you are sure to get the best view of the night stars or northern lights you've ever seen. In some areas, it's even possible to see the Milky Way. From waterfalls to mountains, there is no shortness of natural beauty in the U.P.
10. Yoopers Are Beer Guzzlers, And They Wouldn't Have It Any Other Way
Source: Flickr user yooperann
Yoopers like to drink. Whether it's at deer camp or a summer festival, Yoopers can out-drink the best of them, and that's the way they like it. It goes hand in hand with their heritage and how tough they are.